Business Breakfast – High-value added tasks in Business Service Centers
February 17, 2022 @ 9:00 am

-

11:00 am

10000Ft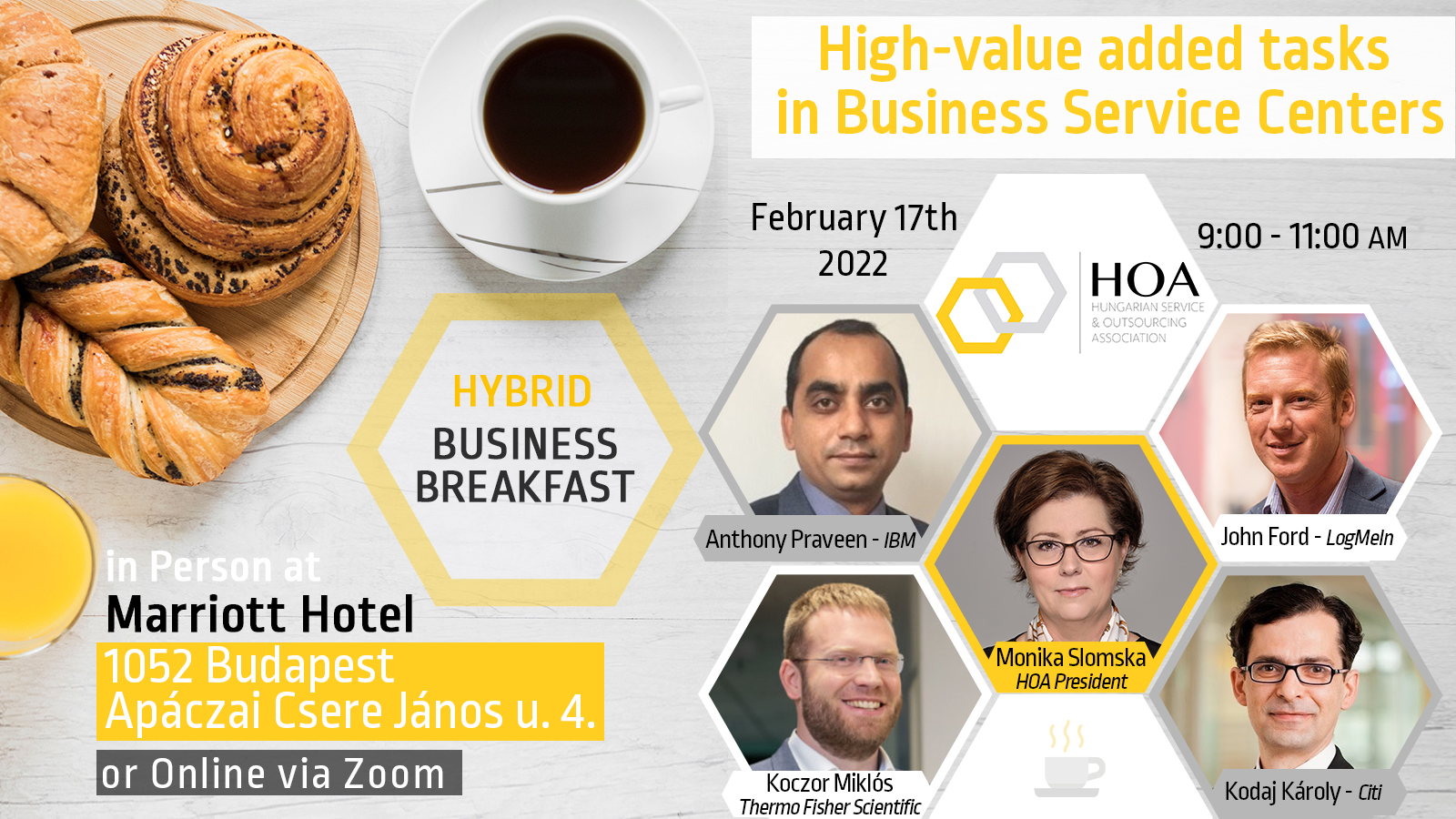 Dear Members and Partners,
The HOA Board is pleased to invite you to our next upcoming hybrid Business Breakfast on the 17th of February from 9 AM to 11 AM. Our topic of discussion next to our coffees is High-Value Added tasks in business service centers.
The natural progression in the lifecycle of the service centers is to obtain more high-value-added services. That is why we feel there is a need to address critical questions regarding the wishes, opportunities, and capabilities of the Hungarian business services sector.
What are those value-add services that leverage enhanced skill sets alongside automated processing?
What opportunities does the sector have and what can leaders do to achieve these?
How can we prepare for the "value" stage of business services and which skill sets will be a must?
Does Hungary have a suitable talent pool for these aspirations?
Join us for a conversation without taboos, our partners are well-experienced leaders in the sector. Make sure to prepare all your questions!
The panel will be moderated by the President of HOA, Monika Slomska.
Our Panel Members for this event are:
Anthony Praveen – Global Leader, Robotics Process Automation for HR at IBM
John Ford – Vice President Digital Workplace Technology and Country Manager at LogMeIn
Koczor Miklós – Senior Director – Site Lead GBS Budapest at Thermo Fisher Scientific
Kodaj Károly – Head of Budapest Citi Solutions Centre
Our hybrid event will be held at Marriott Hotel Budapest, Apáczai Csere János u. 4, 1052 – or as an alternative, you can join us via Zoom.
Please note that you will be required to pay attention to social distancing and wear a mask in the Hotel's common areas.
Ticket types for online participation:
HOA Member Ticket – free of charge for members
NON-HOA Member Guest Ticket – 5.000 HUF + VAT
Ticket types for offline participation:
HOA Member Ticket – free of charge for 1 person/member company
HOA Member Partner Ticket – 5.000 HUF + VAT (additional participants from a member company)
NON-HOA Member Guest Ticket – 10.000 HUF + VAT
We are looking forward to meeting you – either online or in person – and let us discuss our future together!